Most people may not know the term of Certified Pension Actuary (CPA). When hearing this term, people may wonder what actuary is who certified in pension. We hope this page will help as many people as possible understand what the CPA is.
1. Background
The history of the CPA is relatively new, as described in another page.
Why was the CPA requirement introduced? Japanese companies often offer corporate pension plans to their employees to provide financial support for their lives after retirement.
These corporate pension plans have a long time horizon of their life. Thus, statutory requirements, including these of the Defined Benefit Corporate Pension Act, are adopted that the participants' benefits should be secured based on sound management of a corporate pension plan by funding enough assets systematically to provide pensions or lump-sum.
To achieve this, professionals were needed who could evaluate plans' funding conditions on a continuing basis, and give them appropriate advice, and design pension plans that meet the needs of companies, while also being familiar with the statutory requirements related to pension plans and having actuarial expertise. This is why the CPA requirement and its certification were introduced.
2. Professional Services of Certified Pension Actuary
The legislative work of CPAs is to provide the verification to the statutory forms relating to actuarial matters that Employees' Pension Funds, National Pension Funds or Defined Benefit Corporate Pension Plans must submit to the Minister of Health, Labor and Welfare, by the judgement if enough contributions are set for future benefit payments based on the appropriate pension actuarial principles. In addition, the regulation requires each Employees' Pension Fund to appoint a specific CPA, who not only perform the legislative works above , but also assesses the funded status quarterly, and gives advices on the funding management on a continuous basis.
As such, the original scope of work of CPAs was limited to funding issues as what is called "a pilot of pension plan" or "a home doctor of pension plan." However, as social and economic environments have changed, their roles have been diversifying.
The scope of work of CPAs is expanding, specifically, due to the increase in services that need actuarial expertise, such as calculation and review of Retirement Benefit Obligations (PBO alternative) under the "Accounting Standards for Retirement Benefits" that was introduced in April 2000, consulting services of design of HR system in terms of lump sum benefit and pension plans or comprehensive risk management of liability and assets under pension plans (ALM, LDI).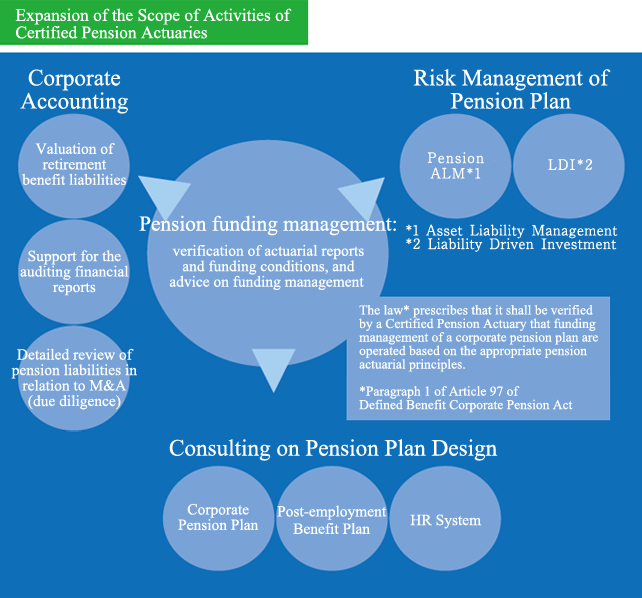 3. Activity Fields of Certified Pension Actuary
Due to the diversification of the professional services provided by the CPAs the scope of their activities has expanded from trust banks and life insurance companies to non-life insurance companies, commercial banks, securities companies, consulting firms, and audit firms. The broadness of CPAs' activities beyond the financial industry reflects the growth of business needs for their actuarial expertise, in particular, probability and statistics.
4. Future Outlook
Due to expectations of the further declining birth and aging population in Japan, the corporate pension plans seem to have more important roles to provide benefit being supplemental to the social benefits as financial support to people lives.
Also, due to the economic globalization, since disclosing financial reports in accordance with International Financial Reporting Standards (IFRS) was authorized in Japan, number of listed companies in the Tokyo Stock Exchange which adopt IFRS has been increasing.
So, CPAs not only work as "a pilot of pension plan" or "a home doctor of pension plan", but also should have a mission to contribute to society in wider fields as professionals who utilize actuarial expertise at most.